At the beginning of the 19th century, the first complex cocktails appeared in the United States and England. 
Since the 2000s
creativity has ignited 
and makes this world the land of excellence for the Green Chartreuse.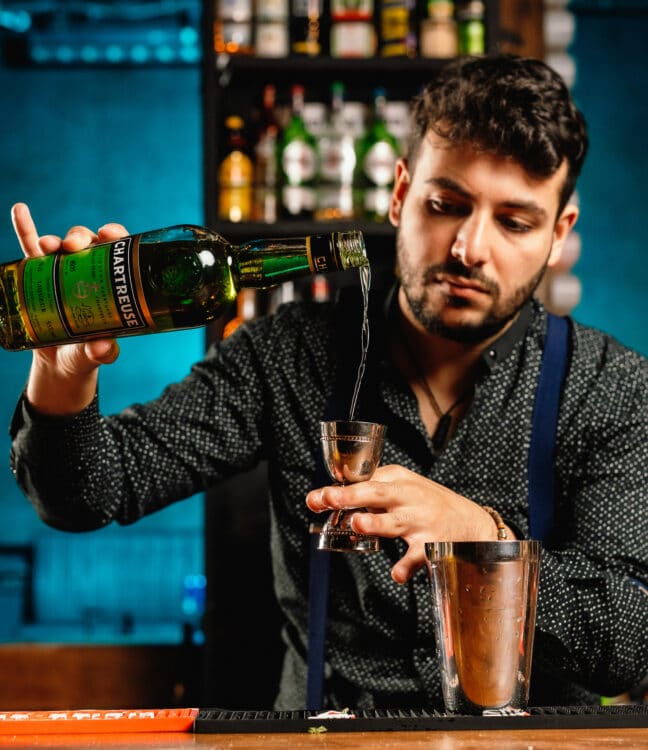 The art of mixing drinks
We owe Harry Johnson the legendary bartender and author of the first manual on cocktails, the creation of the "Bijou" cocktail in 1860 in which he royally introduced the Green Chartreuse. Similarly, another pioneer, Jerry Thomas, included in his cocktail guide in 1876, a composition based on Green Chartreuse : "Brandy Daisy". In 1925, the Athletic Club of Detroit launched the fabulous "Last word" (with a shaker, Green Chartreuse, Gin, Maraschino and lime) which, revisited in 2004 in Seattle by Murray Stenson, received an enthusiastic welcome in all the bars of the U.S. east coast, then soon in the main European cities. Indeed, at the beginning of the 2000s, the cocktails experienced a real renaissance in the world. This revival takes its source on the west coast of the United States where we saw many bartenders bringing up to date the "vintage" drinks used in the cocktail recipes of the beginning of the 20th century and the prohibition. Spirits of excellence like Chartreuse naturally find their place in this new movement.
Photos credits :

Banner : © Pascal Flamant / Cocktails : © Stéphane Couchet