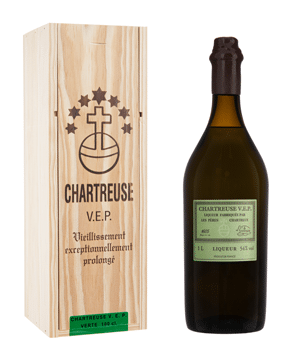 Chartreuse VEP Green
It was produced for the first time in 1963. "V.E.P." (Exceptionally Prolonged Aging) is a registered trademark specific to Chartreuse.
Ingredients
Alcohol, sugar, water, plant substances (130 plants)
Degrés d'alcool
54% vol.
Bottle presentation
100cl
Elaboration
Produced each year in limited quantities, the Chartreuse V.E.P. is made using the same processes as the Chartreuse Verte. The Carthusians took care to select certain traditional green liqueurs which will continue to age for many years in demi-muids. The patina of time allows it to develop aromas of great complexity and long persistence.
Tasting notes
As a digestif, to be served between 13 ° and 15 ° to discover all the flavor and aromatic complexity.
__
Photo © Stéphane Couchet